Easily

Start Your Own Online Poker Site


With Online Poker Script.
Introducing the best poker engine to start your poker website.
If you are looking for a solution to play online poker with your friends, want to start your own full-blown poker site, or want to extend your existing website with poker functionality, then you have come to the right place!
Online Poker Script is easy to use and offers the best experience for your players.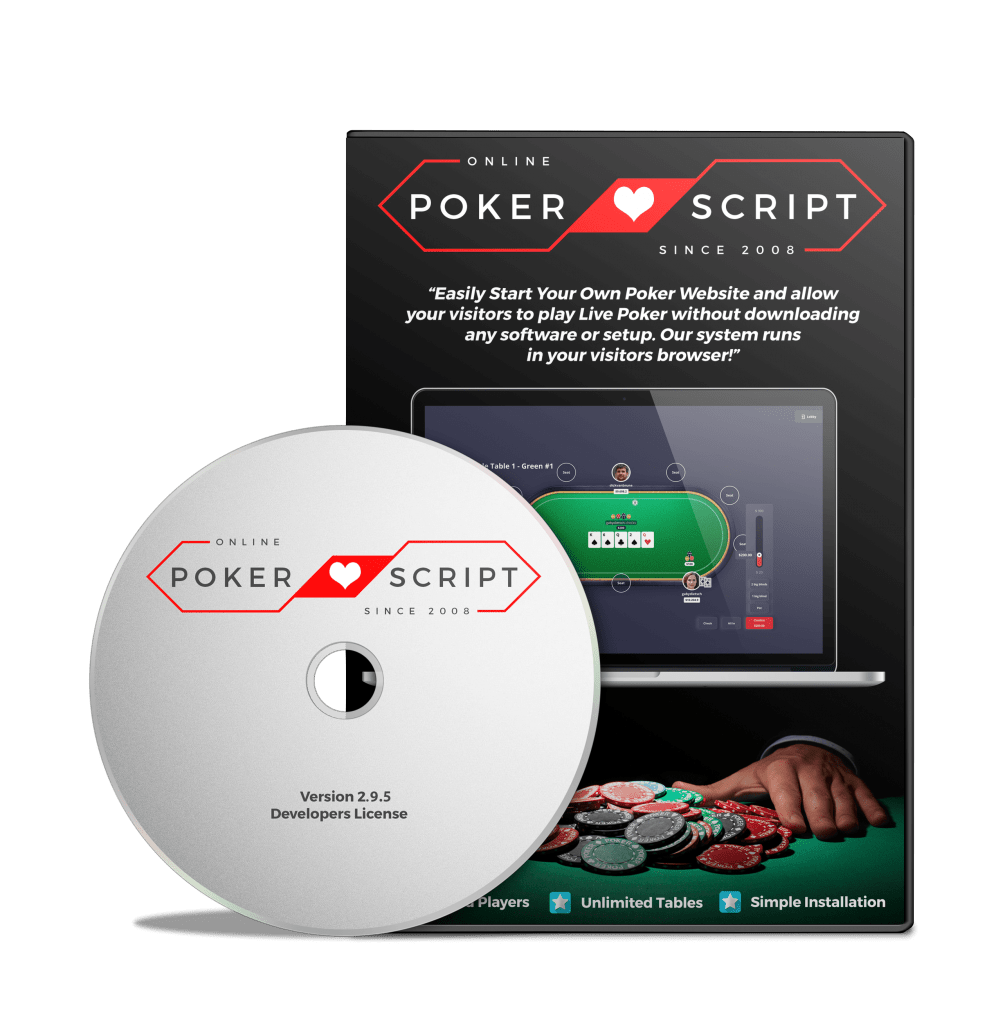 Online Poker Script
Includes Everything

To

Get Started Today

!
Includes Sit 'N Go Games & Tournaments!
Host Unlimited Tables & Players - No Limits!
Multiple Beautiful Table Templates Included!
100% Responsive and Fully Editable!
12 Addons (Extended And Ultimate Licences)
iOS and Android Native Apps
And so much more... Try our Live Demo Below!
Your Poker Site is
Ready To Go

With Online Poker Script
Easily Launch And Setup Your Own Poker Site in No Time – We're here if you need us.
For Fun Or For Profit
You can use our online poker script in any way you'd like. You can use it to just host a free poker game with friends, or use it to built a social gaming platform with levels, free and paid chips and so much more.
Unlimited Tables
Create Unlimited Poker Rooms and Tables for your users. Ideal for big poker sites, but also great for startups who want to find out what your users like to play, and with how many users they'd like to play at once.
Manage Player Accounts
Easily manage member details such as password, email address, chip count and more. You can also learn more about their playing behaviour, join date, Gravatar and so much more. Our largest update to date!
Fully Editable Source Code
Get full access to the Online Poker Script source code instantly after you
secure your license.
Fully editable – Change the design, add or remove features: you can do it with our easy to use software!
LAMP Stack
Our online poker script is coded with PHP, MySQL, JS and Ajax and uses websockets for gameplay. All licenses included fully editable source code and allows you to build on it and extend it to do what you want. Build your custom poker site, easily!

Updates & Support
We are constantly updating, improving and extending our Online Poker Script. If you need help setting up your site or have a question about our online poker script, we are here to help you build a successful (and profitable) poker site!
New

Easy To Edit

Table Templates
Just one image to edit – 3 Templates Included!
Robust Add-On System

For Your Poker Website
Create new functionality for your poker site, or use add-ons included with your Extended or Ultimate License!
Bots Add-On
A much requested addon is bots: computer players that play against real visitors of your poker site. Whenever a real player comes to your site, a bot player will be present at the table to play against.
Cashier Add-On
Add Deposit and Withdrawal functionality to your poker site with the Cashier Addon. Configure the Gateway settings, price per chip, enable or disable withdrawals and your currency with ease.
Limit Players Add-On
Offer head to head games, or limit each table to have a limited amount of players join. Easily set the setting during table creation and allow only 2,4,6,8 or 10 players at the table you are creating.
Rake Add-On
Rake is a percentage that is earned by the site earner over each hand played. Easily set and configure rake globally or per table. You can setup this add-on in just a few minutes, and Rake any percentage over each hand played on your poker site!
Omaha Add-On
Omaha is a variation of poker that is similar to texas hold'em. The main difference is that each player gets dealt 4 cards instead of 2 and has to make the best hand with the cards dealt on the table.
Buy-In Add-On
Out of the box our poker script lets you join a table at the max buy-in amount. This add-on enables a popup slider where the player can slide between buy-in amounts and offers re-buys when they run out of chips.
History Add-On
The history addon logs all hands played across poker tables on your poker site installation. Easily group, sort, and filter through hands and tables and see why and how players won their hands on your site.
Pages Add-On
Easily add pages to your poker site with just a few clicks. Add Terms of Service, Privacy Policy, Cookie, and any other type of text page to your poker site. No coding skills required!
Custom Fields Add-On
Custom fields add-on allow you to easily request more information from your poker players on your poker site. Add more fields during signup to have them give you the information you need. No coding required!
Private Tables Add-On
Included with our Ultimate License.
It allows players to create their own tables. They can invite other players to join their tables or share a password that allows other players to join their very own private poker table.
Pot Limits Add-On
Included with our Ultimate License.
It allows admins to create tables with the Limit and Pot Limit game type.
Fully customizable per table and easy to set up and configure for any OPS Admin.
Agents Add-On
Included with our Ultimate License.
When enabled the players can refer other players, and get rewarded in a multiple ways such as a chips bonus for each referred player. Easy to setup and configure.
Themes for Your

Online Poker Script

Site
Included with Ultimate Licenses or Available Individually!
Table Template Packs
Included with Extended and Ultimate Licenses!
Available On All Platforms & Devices
Your Poker Site, Natively Available On All Platforms.
Available for any device, Online Poker Script is fully compatible on all major plaforms such as Windows, MacOS, iOS, and android.
Additionally, our script is 100% responsive which ensures your poker script powered website will look great on any device your players decide to use!
*Available seperately during checkout. Not included by default with any licenses.
Start

Your Online Poker Script Site

Today

!
Choose Your Plan Below:
Basic License
1 Domain

All Core Features Included

Updates Included

1 Year Support Included

No Add-Ons Included

No Themes Included
Extended License
1 Domain

All Core Features Included

Updates Included

1 Year Support Included

Add-Ons Included

No Themes Included
Ultimate License
Most Popular
1 Domain

All Core Features Included

Updates Included

Lifetime Support Included

Add-Ons Included

Themes Included
Note: Prices Excluding VAT in the EU.
Updates & support are provided for one year after your order. After this time, updates & support and be renewed at a 25% discount.
After your subscription expires, whether you choose to cancel it or your payment method expires, your sites will keep working.
You will however miss out on updates and will not be eligible for support.
Frequently Asked Questions
Our script has been around since 2008 and know what people ask the most.
Feel free to contact us if your questions are not answered, we are here to help you succeed!
What is your refund policy?
Due to the nature of digital products, it's impossible to prevent fraud and still offer refunds. Customer satisfaction is our goal, and we will work with you to solve any issues and find a reasonable solution.
What version of PHP does your script require?
We suggest PHP 7+. Our script has been tested up to 7.3 as of writing.
Is running a poker site legal in my country?
As you understand, this depends on local laws in your country. Some require a gambling license, some do not or have other rules and regulations in place.
Online Poker Script offers a For Fun poker script. We do not support regular gambling activities, nor condone it. We offer a Cashiers module that allows you to start a social gambling site. This means players can purchase chips and use this during gameplay, but get rewarded for active gameplay such as login bonuses, rake bonuses, special events, tournaments and more.
Can you install the script for me?
Our script comes with an easy to use installer. If you can upload a script to your public_html folder and create a database, you can install OPS yourself.
If however you can't do this, we'll be happy to help. For Extended and Ultimate license holders, installation support for one site is included.
For Basic license holders, and more sites for Extended and Ultimate license holders cost a one time fee of $75 per installation.
Can I accept Bitcoin Payments with your script?
Our Extended and Ultimate licenses come with our Cashiers Add-On. This will help you build a simple yet functional Bitcoin integration with any wallet that has an API.
We currently have CoinPayments.net integrated and are looking into building a few basic integrations with compatible providers who allow our social gaming structure when available.
What if any server requirements are there?
We recommend Digital Ocean.
Requirements:
Linux Distribution: Ubuntu 22.04 LTS
Apache Version 2.4
PHP Version 8.1 (Minimum)
PHP Module Dependencies: Proxy, Proxy_wstunnel
Services Dependencies: Supervisor, Cron